Happy Comic Book Wednesday,
I can't believe it, yesterday evening I went to the store to get
Justice League: Throne of Atlantis
and it was sold out. I'm going to check a few stores today to see if they have any still on the shelves. Hopefully, that's a good sign that the movie will be good.
My list for today includes two new books:
Effigy
and
The Powerpuff Girls: Super Smash-up
(miniseries).
Archie Comics
Book:
Betty and Veronica Comic Digest
#230
Description:
Veronica, dethroned from the position as reigning fashion queen at Riverdale High? Say it ain't so!
When Sheila Wu's fashions are the hottest topic in the school newspaper, Veronica sets out to maintain her spot as the top fashionista of Riverdale High, starting with an attempt at being the most stylish girl at the upcoming 2 Chic Divas concert.
Will Veronica pick out the most top of the line outfit? Find out in 'Designing Divas,' the chic lead story to this fun comics digest!
Book:
Archie Comics Digest
#258
Description:
It's winter time and the happiest day of the year has descended upon Riverdale - the day where all of the kids rejoice and the adults wish they were kids again, a day perfect for both students and teachers-if you haven't guessed it yet: it's a snow day!
See how the teens commemorate this surprise holiday in 'Snow-kay By Me' the fun lead story to this comics digest!
Book:
Betty & Veronica Friends Comic Digest
#242
Description:
A new craze has hit Riverdale, and it's a sweet one! When Betty and Veronica get hooked on the new mobile game Candy Craze, they start a new fad at Riverdale High - and even get some unexpected people hooked on the game.
Find out who will have the top score in 'Candy Craze,' the sugary-sweet new lead story to this fun-filled comics digest!
Boom! Studios
Book:
Abigail and the Snowman
#2
Description:
It didn't take long for Abigail to warm up to the idea of having a Yeti as a best friend, but no matter how much fun the two friends have together, they can't avoid the mysterious men in town up to no good in search of the Abominable Snowman.
Dark Horse Comics
Book:
Tomb Raider
#12
Description:
As Lara's journey continues she finds herself in a deadly showdown against a sinister killer. If Lara can't finish what she started she'll lose more than her life, as the final chapter of this pulse-pounding arc comes to a close!
DC Comics
Book:
Aquaman
#38
Description:
Arthur feels the fallout from his monstrous battle with Gorilla Grodd, and the true threat of his mother's return grows closer!
Book:
Batman
#38
Description:
'Endgame' part 4. The Joker is back! This time, no more funny stuff. And in the backup story, five Arkham Asylum escapees share their encounters with The Joker!
Book:
Batman Eternal
#43
Description:
Don't miss this special issue that loops our story all the way back to where it started in BATMAN #28 - but with a twist you won't see coming!
Book:
Bodies
#7 (of 8)
Description:
Coppers undercover, coppers under lovers, coppers on drugs and genocide uncovered. The penultimate tick of the tock before the courtroom dock, the future shock, the hangman's drop and the doomsday clock.
Book:
Catwoman
#38
Description:
It had to happen! Batman confronts Selina over her ascension to the top of Gotham City's criminal underworld - and the gloves come off!
Book:
Effigy
#1
Description:
After a sex-tape scandal, former Hollywood child star turned Z-lister Chondra Jackson returns to her hometown of Effigy Mound, IL, to find a seemingly impossible crime - a fresh corpse in an ancient Indian burial site. Even weirder, the murder resembles a scene from an episode of her old TV show, Star Cop, a live-action children's show about a kid detective.
As Chondra starts to investigate, she stumbles upon a bizarre cult that worships celebrities as eternal effigies. And these cult members aren't just worshiping - they're also ritually sacrificing anyone who defies their veneration of the beautiful and famous. Chondra's probe takes her on a terrifying tour of burial mounds across the world, from Stonehenge to the Nazca Lines of Peru. But what is the link between the cult, Chondra's hometown, and her own bloodline? Will Chondra become the hero detective she played as a child?or is she in fact the cult's unwitting messiah?
Book:
Futures End
#39
Description:
Dr. Polaris is finally aboard the Justice League satellite, and he'll be sure the Justice League faces the ghosts of every civilian they might've saved during the war, if only they didn't consider themselves too godly to care. Also - up in the sky! It's definitely not Superman. And it isn't good!
Book:
Gotham Academy
#4
Description:
The hunt for the Ghost of Gotham Academy begins!
Book:
Harley Quinn
#14
Description:
Everyone knows that Harley's not quite over her last ex-boyfriend. Can she really open her heart to another man? Well, Mason Macabre's not like any other guy she's known before…and not just because he hasn't tried to kill her yet!
Book:
Secret Origins
#9
Description:
Swamp Thing is in the spotlight in this new set of origin tales in a story written by Charles Soule with art by Javi Pina. Also in this issue: the origins of Power Girl by Paul Levitz and Alisson Borges, and Green Lantern John Stewart by Van Jensen and Pat Broderick.
IDW Publishing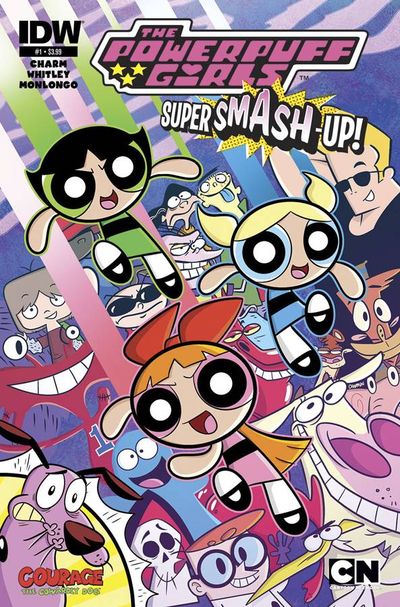 Book:
The Powerpuff Girls: Super Smash-up
#1 (of #6)
Description:
Just when you thought you'd seen it all, Cartoon Network Crossover Craziness continues! After their victory in the Super Secret Crisis War, the Powerpuff Girls take it easy with a rare VIP tour of Dexter's Laboratory! But when tag-along Dee Dee accidentally activates Dexter's newest invention, the fate of the entire multiverse is suddenly at stake! Plus: a bonus Courage the Cowardly Dog story by the Glyph- and Eisner-nominated Princeless's Jeremy Whitley!
Book:
The X-Files Season 10
#20
Description:
'G-23,' part 2 of 2: A government plot leads Mulder to ponder his early days as a cadet at Quantico, including his relationship with Diana Fowley and the fateful day that he found the iconic 'I Want to Believe' poster. But the intrigue goes even further back in time, to when Bill Mulder was partnered with the Cigarette Smoking Man.
Marvel Comics
Book:
Thor
#4
Description:
The Odinson is back. And he clearly doesn't like that someone else is holding his hammer. You know what that means, right? THOR VS. THOR!!!